Dig Safely
Natural gas pipelines run under streets and sidewalks, and under yards and homes. If people dig into these pipelines, they can be damaged and natural gas can leak out. Even a small leak can cause a fire hazard.
Your local utility locator service makes sure underground pipelines and other utilities are clearly marked so people can dig a safe distance away from them. If you know an adult who is planning a digging project, remind them to call this service at 811 at least 72 hours before starting to dig, excluding weekends and legal holidays.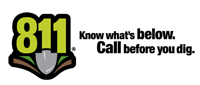 Find Out
What happens when people call the utility locator service at 811 about a digging project?